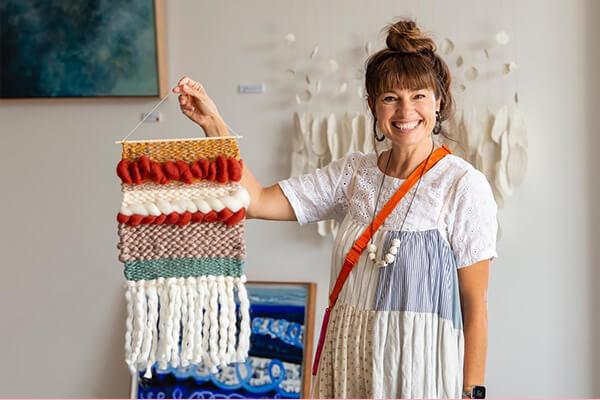 Maryanne Moodie is an internationally celebrated fiber artist and maker. Her latest book, Maryanne Moodie's Modern Weaver is the perfect guide to weaving bold, colourful pieces. Moodie's accessible style of teaching makes it the perfect book for beginner and advanced weavers alike.
We recently spoke with her about when she first discovered her love of weaving, how she gets into the creative zone and what advice she has for beginner weavers.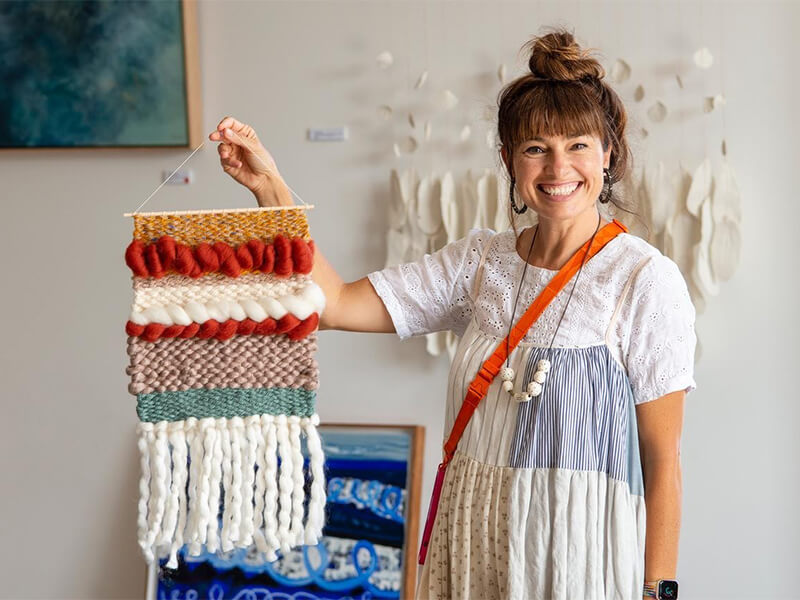 How did you first discover your love of weaving?
I found an old loom when I was clearing out the art storeroom when we were moving schools. It was bound for the skip and I rescued it. It wasn't until I was on maternity leave with my first child that I really began exploring weaving though. After a lot of trial and error, I figured out the basics of weaving. It really was love at first try. The first year or so felt like an intense love bubble. Like I was falling in love with weaving and all I really wanted to do was weave. I would find any moment to weave: when my baby was napping, in the evenings after dinner, pre breakfast. Any moment was a good moment to weave! It felt like I had been walking around in the dark for the first 30 years of my life and suddenly someone turned the lights on, and EVERYTHING was weaving.
What was the inspiration behind Modern Weaver?
I have been squirreling away ideas for projects for the last five years or so. I wanted to take weavers on a journey from the basics and scaffold them through skills and projects to more advanced projects. As someone who is known for their colour selections and combinations in my artwork, I also wanted to show weavers how to become more confident with making bold choices.
How does your new book differ from your first book, On the Loom?
On the Loom is a book for entry level crafters. There are many projects that you can do with supplies and materials around the home. Modern Weaver is the big sister to On the Loom. It is more mature, more grown up. I now have over 10 years' experience as a weaver and it shows!
Tell us about your artistic process – how do you get in the zone to create? Where do you take your inspiration from?
I drop the kids off at school! 🙂
But seriously, I have a dedicated space for my weaving. I make a cup of tea, open the windows and take up my sketch book. I try to relax and allow any feelings to come to the surface. I draw what is in front of me. By using these sketches, I can distil them into a weaving design that holds these feelings within. When I get in the zone, I often find that at the end of the weave I have come to new knowledge and understanding of myself and the world.
You also run workshops and online courses in weaving. How do these differ from the information in your book?
My in-person workshops can be more flexible and move with the participants' questions and desires. The book is very detailed, with a structure that explicitly takes the weaver from level to level, growing on prior knowledge. I was a teacher for 10 years and so I know how to create curriculum, teach and cater to different learning styles and student needs.
What advice would you give to people wanting to try weaving for the first time? Is there a particular pattern you'd recommend people start out with?
I would recommend buying my books! They teach you how to make your tools, how to select fibres, warp up your loom and all the steps needed to complete your projects. If you are more of a visual learner, my online courses are excellent. I have had thousands of happy students.
What's next for you?
I am working on some big corporate commissions as well as private pieces for collectors all over the world. Creating art allows me to fully express who I am. It is a privilege.
Is there a song that encapsulates your approach to life and work?
Go Your Own Way by Fleetwood Mac.
---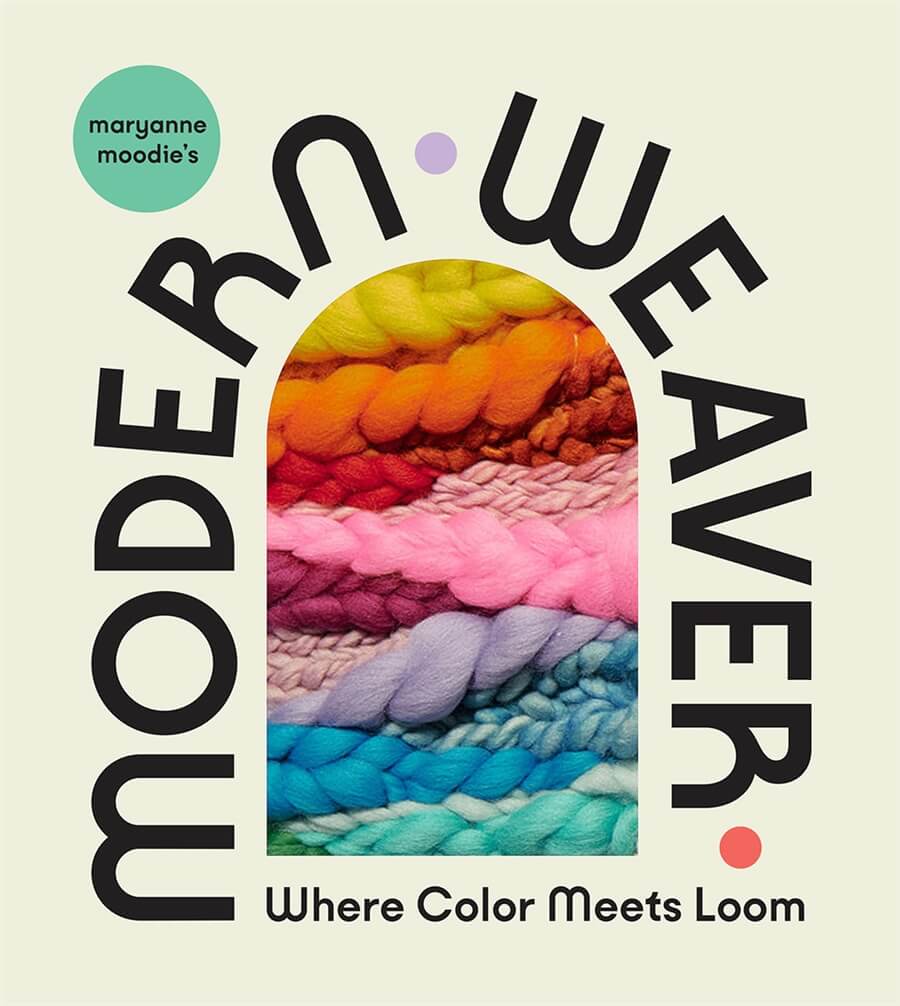 Posted on
June 20, 2022