We spoke to Kim Walvisch about her new book, The Burbs: A Visual Journey Through the Australian Suburbs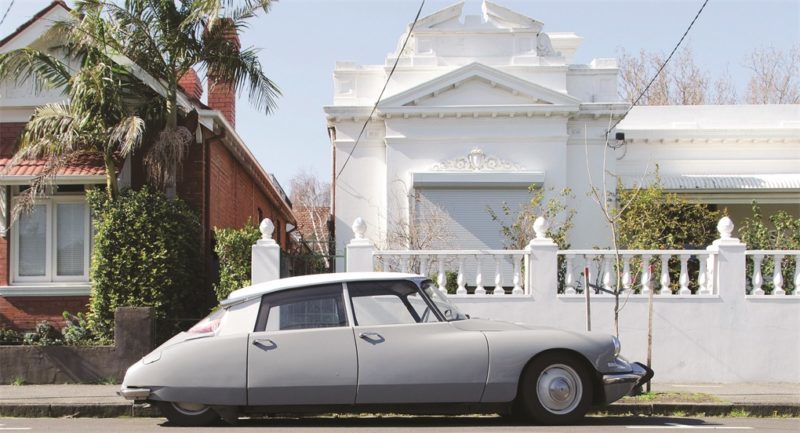 How did you start as a photographer, and what was your inspiration to create the @sublurb Instagram account?
My daughter was an atrocious sleeper and the best way to get her to nap was to go on long walks around the local streets. Sometimes I'd walk for hours and, to keep myself occupied, I started taking photos of things that caught my eye – weird gardens, unusual chimneys, unique fences, peculiar letterboxes and other odd suburban details. I decided to start sharing those photos on Instagram to my account @sublurb and, after a number of years, I built up quite a loyal following of people also interested in suburban curiosities. Whenever I left the house to push Peggy in her pram, I'd also take my camera. I started travelling to suburbs all over Melbourne and photography became a serious passion. I decided to create an archive of what the Australian suburbs looked like before there was so much architectural development. I was keen to capture old-school suburbia before it vanished.
Who are your favourite photographers?
I'm a huge fan of American photographer William Eggleston and his use of colour. I'm crazy about Stephen Shore and his shots of banal scenes across the States: lots of old cars, parking lots, storefronts and that kind of thing. Joel Sternfeld takes photos in a similar vein, same with Fred Herzog. I'm basically a huge fan of colour photography of mundane or ordinary subject matter and the places we live.
What draws you to photographing homes?
A few things. I definitely appreciate certain styles of architecture, such as art deco and mid-century modernism, so I'm attracted to houses that reflect those eras. I also like unusual architectural detail that might appear on simpler postwar houses – ornate chimneys, stair railings, fancy brickwork – special touches that would have been made by brickies and other thoughtful tradesmen. I feel like a lot of housing today just doesn't reflect the same level of technical skill, so I'm always on the lookout for those stand-out details. I've seen a house where the chimney is shaped like a large jug. Apparently, the owner was a wine connoisseur and had this detail built in especially. I love that kind of thing. Sometimes the 'plain Jane' houses have very special touches.
What is it that draws you to the buildings you photograph?
I'm looking for buildings with personality. I like imperfection, dilapidation, obvious signs of ageing. I like to capture buildings that might imminently disappear. I'm also a huge fan of symmetry, so I love houses that have symmetrical gardens or old matching chairs on the porch. Peculiar buildings intrigue me too. I'm looking for homes, buildings or gardens that convey the occupant's eccentricities.
What was the biggest challenge you faced in creating The 'Burbs?
Deciding what pictures to include! I literally had thousands of shots, so it was really hard narrowing it down to a number that could be featured in the book.
How long did the project take?
I've been accumulating photos for about seven years now and was always hopeful a book project would arise. Thankfully, Thames & Hudson gave me the opportunity to share my shots with a larger audience.
This is your first book. What have you most enjoyed about the process of creating it?
I've found the whole process pretty fascinating. My first ever job was in a bookshop and I've always had a bit of a dream of creating my own book. I had no idea the publishing world moved so slowly, so it's definitely been an exercise in patience! I enjoyed working alongside the designer and seeing the pages come to life. The most exciting moment was going into the Thames & Hudson offices and flicking through the advance copy. It was like holding a baby for the first time!
Kim Walvisch has been steadfastly documenting Melbourne suburbia for the past five years. Her Instagram account @sublurb now has more than 13k followers. She has taken photos in more than 100 suburbs and created a nostalgic archive of how things looked before the takeover of development.
Posted on
December 12, 2018