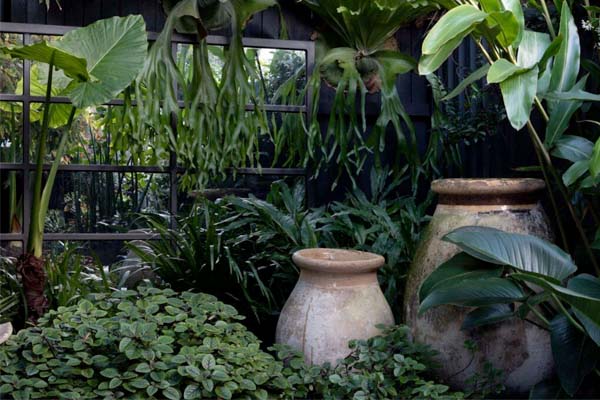 In The City Gardener, Richard Unsworth takes us on a journey through urban spaces that are lush and blooming with creative expression. As our concrete jungles continue to grow in both size and density, the cultivation of green sanctuaries inside city limits has never been more important. In this extract, Unsworth showcases the innovative design and immaculate execution of a garden in the inner-city suburb of Redfern.
Redfern is an exciting and diverse suburb sitting at the southern end of Sydney's CBD. Like other inner-city suburbs, it has a working-class history. However, over the years it has become gentrified as property prices have grown and young professionals flocked there, wanting to live within walking distance of the city. I bought my first house in this colourful suburb and, after leaving Darlinghurst, Garden Life had its second home here on busy Cleveland Street for more than eight years.
Its densely packed terrace houses have mostly been renovated to provide their owners with modern conveniences and better connections to their rear garden spaces, which, like those of Paddington and other inner-city areas, can be rather small and confined.
This project was no exception. The traditional cottage was originally a small single-level dwelling just 4 metres wide. Beyond the original frontage, the renovation by BKH architects added another level and a single large room at the rear of the house, which connects beautifully to the rear garden.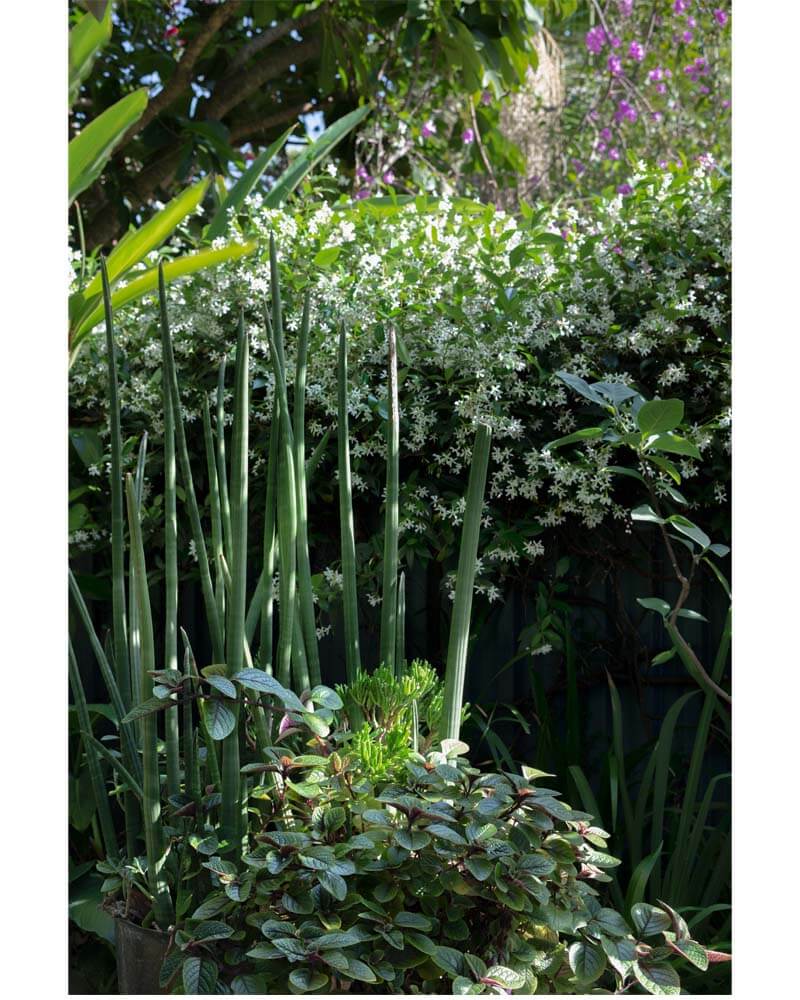 The client is a prominent Sydney florist and he approached us to help him with his garden renovation. Working with flowers all day long is his life, so when we first started talking about the garden, the subject of blooms was way down the list. Overall, our brief was simple. He was keen to see greenery, lots of it, in all different forms, as well as grow some herbs, hang out his washing and keep a few fish. Apart from that, he left the direction to us. We discussed creating a 'jungle madness' of contrasting planting. I've always been drawn to a rainforest environment and love the stillness that comes with being surrounded by dense greenery, moisture, coolness and fresh, oxygenating leaves.
When designing a garden in a confined space, we usually exercise restraint. We are careful not to overcrowd and work to avoid appearing cluttered. But the client wanted absolute abundance, so we had the opportunity to play with all kinds of textures and foliage forms without being concerned it would look too crammed. We put constraint to one side and started to think about what we could pack into a space measuring just 9 by 4 metres.
In terms of structure, we inherited minimalist polished concrete that flows seamlessly from inside the house out into the small rear yard. The same material continues up into wide steps connecting the upper level, which is only marginally larger than the lower. On the upper level, we needed to create a practical floor that you could stand or sit on, but wanted something soft and unobtrusive when viewed from the lower level. We went with large amoebic-shaped bluestone pavers, mass planted with kidney weed and native violets to grow over all the edges.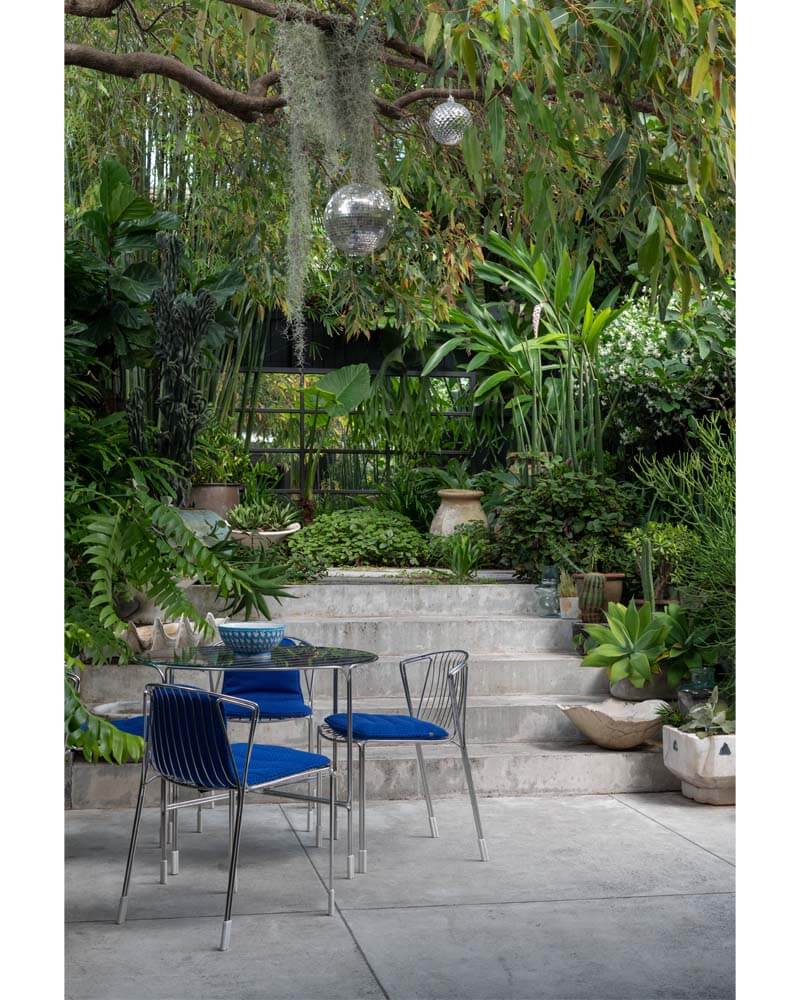 The three boundary walls needed to disappear to create a feeling of more space, so these were painted in a deep charcoal colour. Dark boundary walls always help bring planting into the foreground and the plant colours are intensified as a result. The light conditions in the little garden are very mixed. Much of it is in shade for a lot of the time from surrounding trees and neighbouring foliage, although some parts are open to the hot western sun in summer. The planting we selected had to be shade tolerant and very adaptable to hot sun when necessary.
While the garden was to be densely planted, it was still important that the form of each individual plant could be seen. So we made sure that we didn't put similar foliage types together, but rather created contrast. For example, we placed tall, ribbon-like leaves of iris behind small, round forms of silver plectranthus. A large stainless steel tray was submerged at the rear of the garden and filled with water plants and fish. We added a small fountain and submersible light.
Our client liked the idea of mirrors to visually expand the space. They can work well in small gardens to trick the eye, help bounce light around and reflect foliage, but it's important to consider what they are reflecting. It needs to be something worthwhile rather than simply an opposing wall. We designed a large mirror that consisted of a grid of smaller panes and placed it at the back of the garden so that it would reflect the foliage and water surrounding it. Mirrors are most effective when the edges disappear into the planting. Climbers work well in softening the edges, whether they are loose and twining on wires or attaching themselves tightly to the surrounding walls. What's important is to have a mirror bedded into greenery.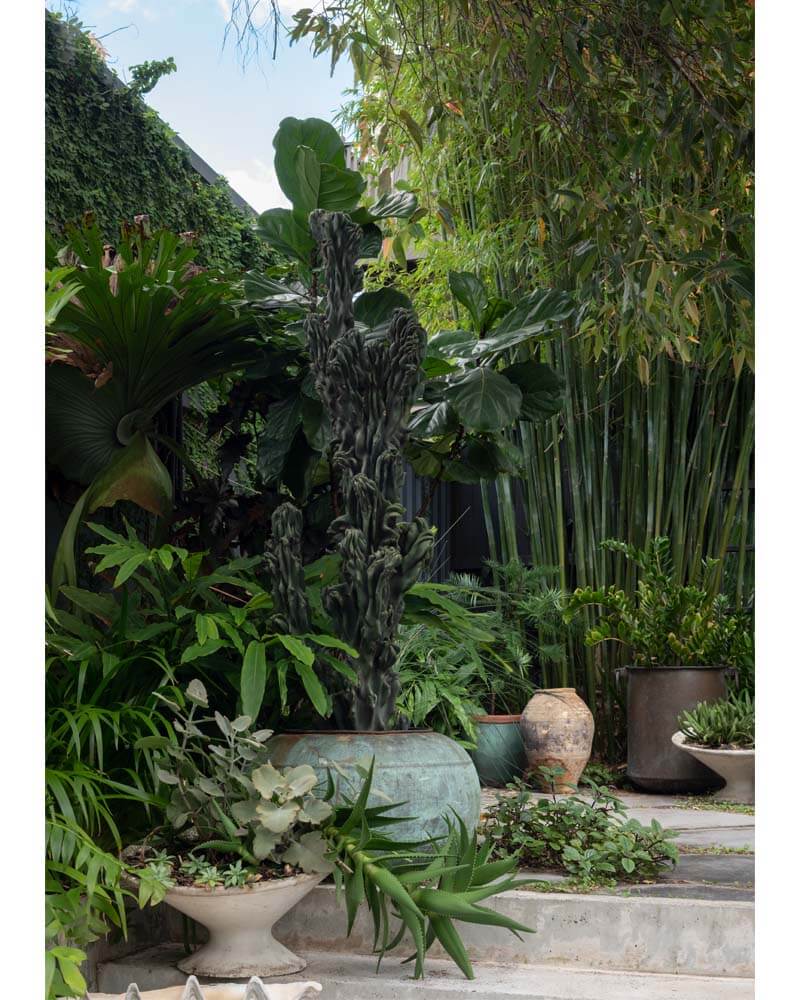 When it came to planting, we wanted interesting foliage that worked well together, creating a cohesive feel and addressing practical concerns. Privacy was an issue from adjacent houses so we added a clumping bamboo sitting next to the mirror at the rear and subtropical foliage such as elephant ears, philodendron and dwarf cardamom.
On the walls we planted creeping fig and star jasmine to green up the boundaries, as well as huge staghorn ferns. Cactus and succulent forms were included in the planting mix and they sit surprisingly well with the more subtropical plants, giving the garden a certain edge. Some of these sun-lovers work well in shady, dry gardens, including foxtail agave, orchid cactus and variegated snake plant.
Over the years, when our store was around the corner, our client curated a collection of interesting vintage pots and vessels. It was a good opportunity to fill some of these with quirky specimens and place them around the perimeter. Their strong forms add personality and character, and softly define the spaces around the foliage.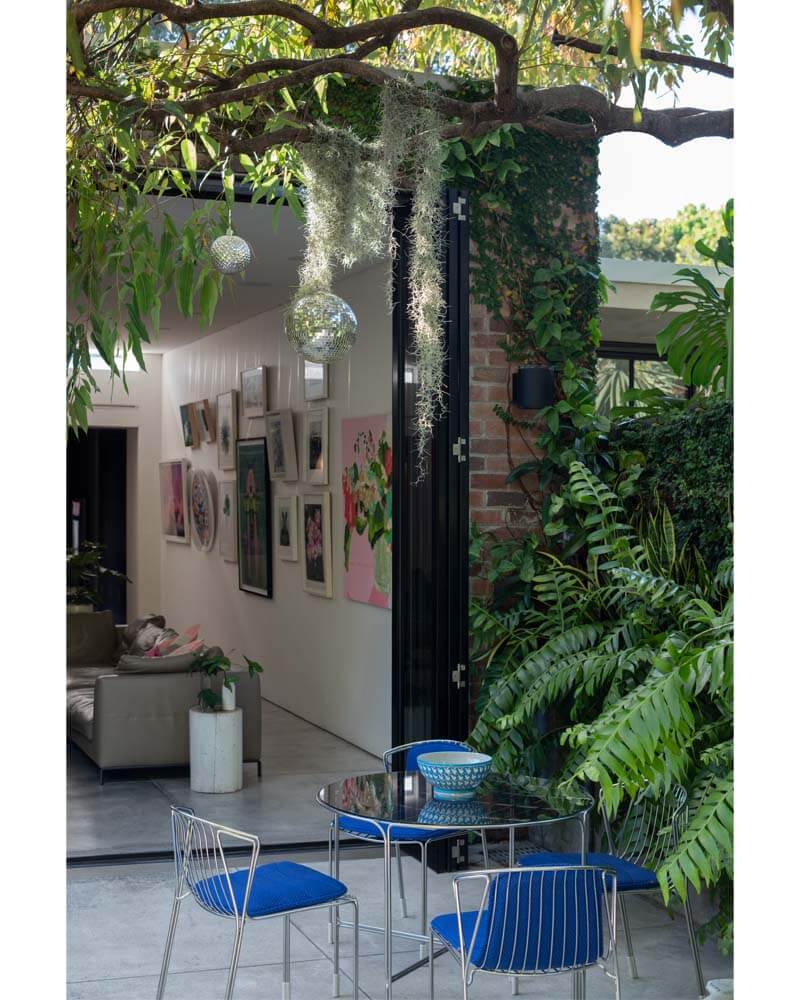 This garden works because there is a pleasing balance of both hard and soft landscape. The wonderful minimalism and clean lines of the raw concrete and the wide stairs stretch out the width of the yard and contrast with the abundance of greenery. The negative space of the built form is just as important as the foliage, as it provides the structure. When viewed from inside, the surround of the bifold doors acts like a frame for the artwork of the garden beyond. The finishing touch is a mirror ball hanging high above the dining table in a flowering gumtree, ensuring that every day is a disco, come rain, hail or shine.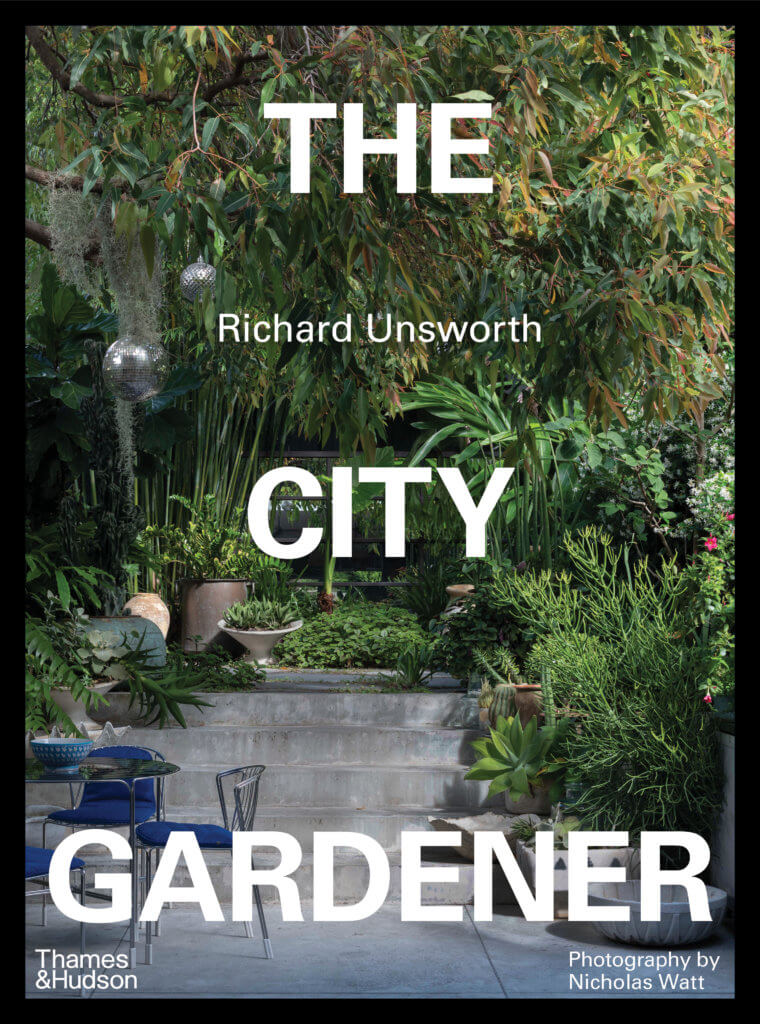 The City Gardener is available now. Text by Richard Unsworth and photography by Nicholas Watt.
AU$ 49.99
Posted on
October 11, 2021