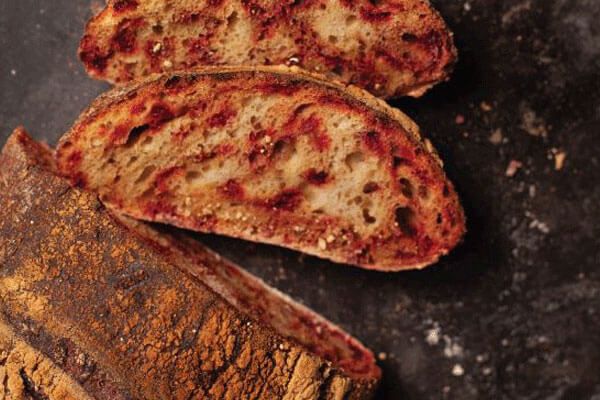 There's no better time to settle in to the ultimate, feel-good luxury of making homemade bread, and this Speckled Beetroot Sourdough is worth settling in to.
Whilst all the recipes in How to Raise a Loaf are suitable for beginners, this recipe should be attempted once you've already made your first basic loaf. The recipe for a basic loaf, as well as kneading and folding tutorials, are all included in How to Raise a Loaf. You'll also find a step-by-step guide to making and using your starter. Head over to Laurence King's Instagram story here to watch how we make our starter.
---
Speckled Beetroot Sourdough
With a distinctive appearance and earthy aroma, this is a real show-stopper, and a perfect, hearty accompaniment to winter soups or stews. Beetroots are a rich source of antioxidants, and also give the dough an unforgettable pink colour, which fades in the oven, leaving speckles in a classic open crumb.
Ingredients
· 200g starter
· 10ml (2 tsp) olive oil
· 180ml warm water
· 340g strong white bread flour
· 7.5g (1½ tsp) fine salt
· 150g fresh beetroot, peeled and coarsely grated
· rice flour or semolina, for dusting
1. In a large mixing bowl, whisk the starter, olive oil and warm water together until the starter has dissolved.
2. In another bowl, mix the flour with the salt. Add this to the wet mixture and mix well with your hand, then add the grated beetroot and mix until the beetroot is evenly distributed. Cover the bowl with a tea towel and leave to rest for 30 minutes.
3. Wet your hands, then pull, fold and rotate the dough 8—10 times, so that it forms a ball. Leave to rest for 10 minutes.
4. Repeat Step 3 twice so that you've worked the dough three times and it has rested for a
hour in total.
5. Dust a proving basket liberally with rice flour or semolina. Wet your fingers, work them around the bottom of the ball of dough and gently transfer it to the proving basket, keeping the seam upwards.
6. Cover with a tea towel and leave in a warm place to prove. Depending on the temperature and the activity of the yeast, it may take three to six hours to gain about 50 per cent in size.
7. When the loaf has proved, preheat the oven to 230°C (210°C fan)/gas mark 8, with a heavy baking tray or baking stone on the middle shelf, and add a source of steam. Turn the loaf out of the proving basket onto the heated surface, cut it twice across the top with a sharp blade or scissors, then place it in the oven.
8. Bake for 10 minutes, then reduce the temperature to 210°C (190°C fan)/gas mark
and bake for another 40 minutes, or until the loaf is done and sounds hollow on the base
when tapped with a fingertip.
9. Leave to cool on a wire rack before eating.
This is a recipe extract from How to Raise a Loaf, published by Laurence King Publishing, $25, available here.
Posted on
May 11, 2020