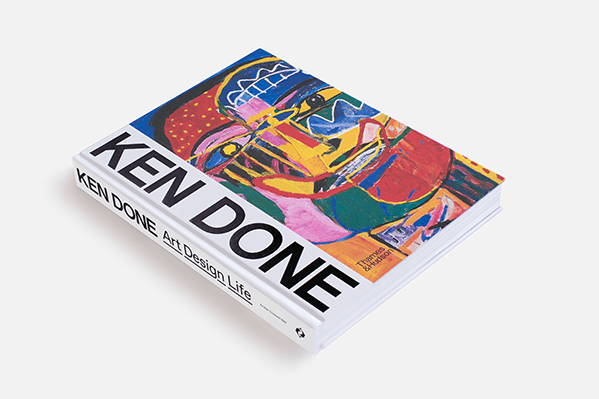 THIS COMPETITION IS NOW CLOSED
This competition is open to all active subscribers of the Thames & Hudson Australia eDM database until Tuesday 14 September 2021. Sign up to our e-newsletter here.
TERMS AND CONDITIONS: Limited Edition copy of Ken Done: Art Design Life + a Ken Done 'Barrier Reef' tote bag (the Competition)
These are the Terms and Conditions (Terms) of entry for the Competition, conducted by Thames & Hudson Australia Pty Ltd (Thames & Hudson Australia), whose registered office is at 11 Central Boulevard, Port Melbourne, Victoria 3027.
Please read these Terms carefully because you will be deemed to accept them if you enter the Competition.
For all questions relating to this competition, please contact Thames & Hudson Australia at: marketing@thameshudson.com.au
Competition Period

1.1 This Competition opens on Thursday 5 August 2021 at 9am (AEST) and closes on Tuesday 14 September 2021 at 5pm AEST (the Competition Period).

The Prize

2.1 The prize for the Competition is a Limited Edition copy of Ken Done: Art Design Life by Amber Creswell Bell signed by Ken Done accompanied by a yellow slip-case and signed art print + a canvas tote bag featuring a unique digital print developed from the original Ken Done work 'Barrier Reef garden,' 1984 (the Prize).
2.2 Prizes are not transferable or exchangeable (including for cash), and a winner may not request that all or any part of a Prize will not be substituted for other benefits or items at the request of winners.
2.3 If any element of the Prize becomes unavailable for any reason beyond the control of Thames & Hudson Australia, a similar prize of equal value will be awarded in place of the Prize.
2.4 A winner is responsible for any taxes for which they may be liable as a result of winning a Prize, as well as for any expenses (other than postage or other usual delivery charges) not specifically mentioned as being included in the Prize.
2.5 The stated value of the Prize is based on estimated or recommended retail prices (including GST) at the date of publication. Thames & Hudson Australia accepts no responsibility for any change in the value of the Prize between that date and the date on which the Prize is delivered to a winner.

How to Enter

3.1 Entrants must undergo the following steps to enter the Competition:

a) Fill in the survey emailed to you from the Thames & Hudson Australia e-newsletter database;
b) Answer the following question in 25 words or less: "Who is your favourite artist and why?";
c) Accept the competition terms and conditions, confirming that they have read and understood these, that they are Australian residents and that they are over 16 years of age.

3.2 Entrants may not enter more than once and each entrant is only eligible to win one Prize and the following will be invalid:

a) entries received outside the Competition Period;
b) entries that do not comply with these terms and conditions;
c) entries that Thames & Hudson Australia, in its sole discretion, determines are fraudulent (including entries that misrepresent the eligibility of the entrant); and
d) (where a competition is conducted on a social media platform) multiple entries from a single individual using multiple accounts on the one social media platform.

3.3 Thames & Hudson Australia may, in its sole discretion, disqualify any entry that in its view is (or is potentially) objectionable, including (without limitation) any entry that is not reasonably comprehensible or infringes a third-party's rights, or is defamatory, obscene, insulting, inflammatory or discriminatory; or is likely to damage its reputation or the reputation of any Affiliate or donor or sponsor of a Prize.
3.4 Entry is free (subject to any obligation stated as part of how to enter in relation to purchasing a Thames & Hudson Australia product) but entrants are responsible for any costs or charges they may incur in entering.
3.5 Notwithstanding anything else in these terms and conditions, the Competition is not open to:

any employee of Thames & Hudson Australia or of any parent company, subsidiary, agent or affiliate of Thames & Hudson Australia, including a company or organisation that has provided a Prize for a competition (together, Affiliates); or
members of the immediate families of employees of Thames & Hudson Australia and Affiliates.

3.6 Notwithstanding anything in clauses 3.2 or 3.3, the Competition is not open to anyone under 18 if the Prize is or includes any alcoholic beverage or product or any service or product that by law is unavailable or not open to people who are under that age.

Winner/s

4.1 Winner[s] will be selected on the basis of creativity in answering the question "Who is your favourite artist and why?" from all correct, valid and eligible entries received.
4.2 All decisions concerning the winning entry will be final and binding on entrants in all respects, and no correspondence will be entered into.
4.3 Winners will be published on www.thamesandhudson.com.au within 7 days of judging the Competition. All reasonable endeavours will be made to contact the winners during this time.
4.4 A Prize may be forfeited (with no substitute offered) and an alternative winner or winners selected in accordance with the winner selection procedure set out above if a winner:

a) cannot be located;
b) does not adequately respond to notification that they have won a Prize before 5pm Tuesday 21 September 2021;
c) does not accept an element of the Prize as arranged with Thames & Hudson Australia;
d) does not or cannot provide Thames & Hudson Australia with proof of identity and/or residence if requested by Thames & Hudson Australia to do so; or
e) does not comply with any other term or condition of the Competition.

4.5 Thames & Hudson Australia reserves the right, in its absolute discretion but subject to relevant State and/or Territory law, to cancel the Competition and not award a Prize if Thames & Hudson Australia is unable to proceed with the Competition (including any judging and/or draw) as a result of circumstances beyond its control including, without limitation, pandemic, vandalism, hacking, computer virus or bugs, server breakdown, acts of terrorism, acts of God, civil unrest, strikes and power failures.

Warranties, limitations, releases and consents

5.1 Entrants grant Thames & Hudson Australia and Affiliates an irrevocable, non-exclusive, royalty-free, worldwide and transferable licence to publish their entry and name, including the right to sub-license these in association with the Competition.
5.2 Entrants promise that entries will be original and will not infringe any third-party rights (including copyright and trade marks) and will not breach any law or any obligation of confidentiality.
5.3 Winners may be photographed and/or filmed at any event associated with the delivery or handing over of a Prize, and entrants grant Thames & Hudson Australia and Affiliates the right to take and to publish such photographs and/or footage and to use an entrant's name for promotional purposes without additional consent or any additional payment from Thames & Hudson Australia or any third party.
5.4 To the maximum extent permitted by law:

Thames & Hudson Australia takes no responsibility and makes no warranties or representations, express or implied, in relation to any Prize, including but not limited to warranties of reliability, merchantability or fitness for a particular purpose;
entrants waive any right to claim from Thames & Hudson Australia for any disappointment, costs, expenses, loss or damage suffered that arises out of or in connection with owning or using a Prize; and
all liability for any defects whatsoever in or relating to the Prize remains with the relevant supplier or manufacturer.

5.5 Thames & Hudson Australia and any Affiliate is not and will not be responsible for any late, illegible, lost, incomplete, postage due, misdirected or mutilated mail, or any electronic miscommunication or failure, of any kind, (or any other event outside the reasonable control of Thames & Hudson Australia or any Affiliate) which may limit or prevent an entrant from participating in the Competition and/or collecting, receiving or being notified of any Prize and/or which results in any damage to, delay of or loss of a Prize during or after delivery once it has left the possession of Thames & Hudson and/or an Affiliate.

Personal information

6.1 As part of running the Competition and awarding and delivering a Prize, Thames & Hudson Australia may collect personal information of entrants, including name, email address, residential address, contact phone number/s, date of birth and gender ("Personal Information").
6.2 Except as otherwise provided under clause 6, any Personal Information of entrants will be used by Thames & Hudson Australia:

a) for the purpose of conducting and promoting the Competition (including verifying eligibility, delivering a Prize and complying with any applicable Commonwealth, State or Territory law); but otherwise
b) only in accordance with its Privacy Policy: https://thamesandhudson.com.au/useful-links/privacy-policy/

6.3 Any request to access, update and/or correct Personal Information should be directed to Thames & Hudson Australia by email to enquiries@thameshudson.com.au

General

7.1 Entrants agree:

a) to comply with all reasonable conditions of use of a Prize and any reasonable requirements of any person or organisation that supplies a Prize;
b) to conform to all applicable Australian laws and regulations; and
c) to conform to any relevant website terms and conditions (including any terms and conditions relating to the use of social media where a competition is run via a social media platform).

7.2 These Terms constitute the entire agreement between an entrant and Thames & Hudson Australia and supersedes and extinguishes any previous agreement, arrangement or understanding between them (whether written or oral) relating to the Competition or any other subject matter set out in these Terms.
7.3 These Terms are governed by the laws of Victoria and are subject to the exclusive jurisdiction of the courts of that State.
Posted on
July 27, 2021