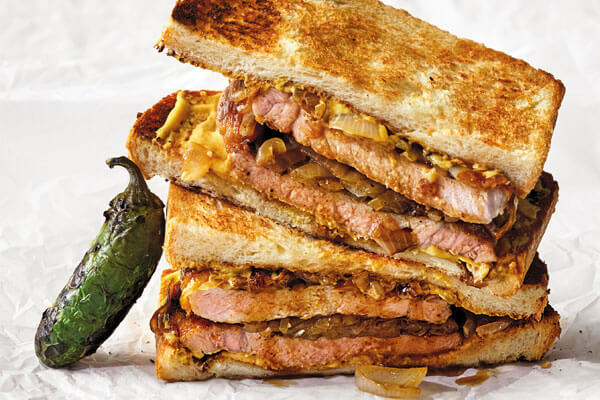 In his second cookbook, one of our favourite chefs Matty Matheson opens up his home and shares his approachable style of cooking. Get a taste of the bold and beautiful dishes Matty serves up in Matty Matheson: Home Style Cookery with these recipes for his Chicago-Style Pork Chop Sandwich and Green Curry Beef Ribs.
Chicago-Style Pork Chop Sandwich
Serves 2
Prep time: 15 minutes
Half of these sandwiches are inspired by my trips to Chicago, it seems, and this pork chop is a perfect piece of history. A bone-in pork chop sandwich may seem weird or even troublesome, but I feel it's a challenge and I'm always up for it. Whenever I go to get one of these, I can smell the onions from down the street—piles of caramelized onions covering seared pork chops, keeping them warm like the belly of a mama bear. I love the kind of spots that can hand you a sandwich in less than a minute flat, and the whole family instantly has food that's eaten on the hood of the car, eating and chewing away at an American classic that now can be made at home. You could buy good pork, maybe, or buy those frozen bone-in quarter-inch-thick guys that we all remember growing up.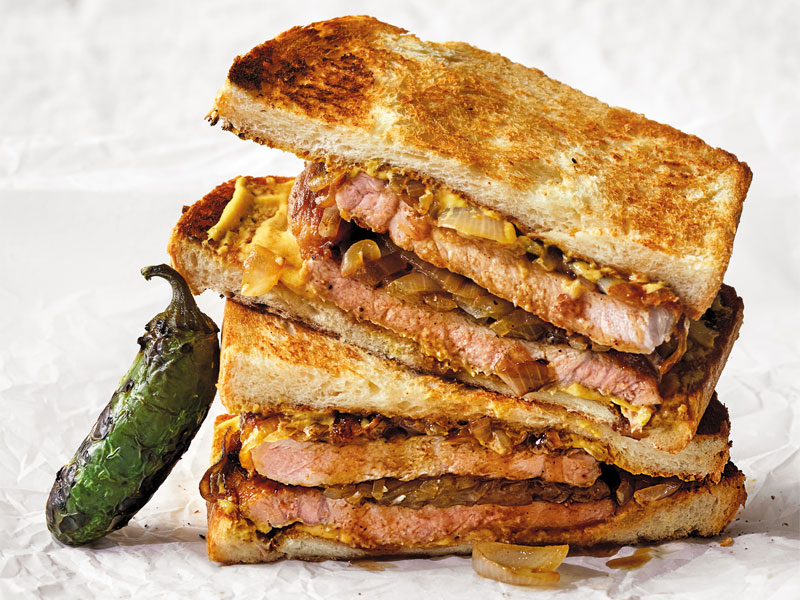 Ingredients:
2 bone-in pork chops (the thinnest pork chops available, about 115 g per chop)
1 teaspoon kosher salt, plus more for the onion
1 teaspoon freshly ground black pepper
2 tablespoons vegetable oil
1 white onion, julienned
4 slices toast
2 tablespoons yellow mustard
2 pickled jalapeño chiles
Directions:
Season the pork chops with the salt and pepper.
Heat the vegetable oil in a large cast-iron skillet over high heat. Once the oil is smoking hot, add the pork chops and sear hard on the first side, about 2 minutes. Flip and repeat on the other side. Take out of the skillet and rest on wire rack.
Heat the vegetable oil in the hot pan. Throw the onion into the pan, stir it up, and hard-sear for 2 to 3 minutes. Put a lid on the pan and let the onion steam for a minute. You want those onions a little caramelized and burnt. Season with salt. Remove from heat and let rest.
Spread 1 tablespoon of the mustard on one side of both the top and bottom pieces of toast. Place the pork chops on the bottom toast, cover with onions, and finish with the top toast, mustard side down. Serve with a pickled jalapeño.
Green Curry Beef Ribs
Serves 4 to 6
Prep time: 3 hours
Meat and rice is the new meat and potatoes. And braised beef ribs in spicy green curry is great for any meal— breakfast, lunch, or dinner. Real flavor-building, real spice, real tasty meals for the whole family. Building your skills and your palates are very important to keep things exciting in your home life. And guess what, the day after, shred this beef and make little rotis; add some cheese, even. Fuck this shit up.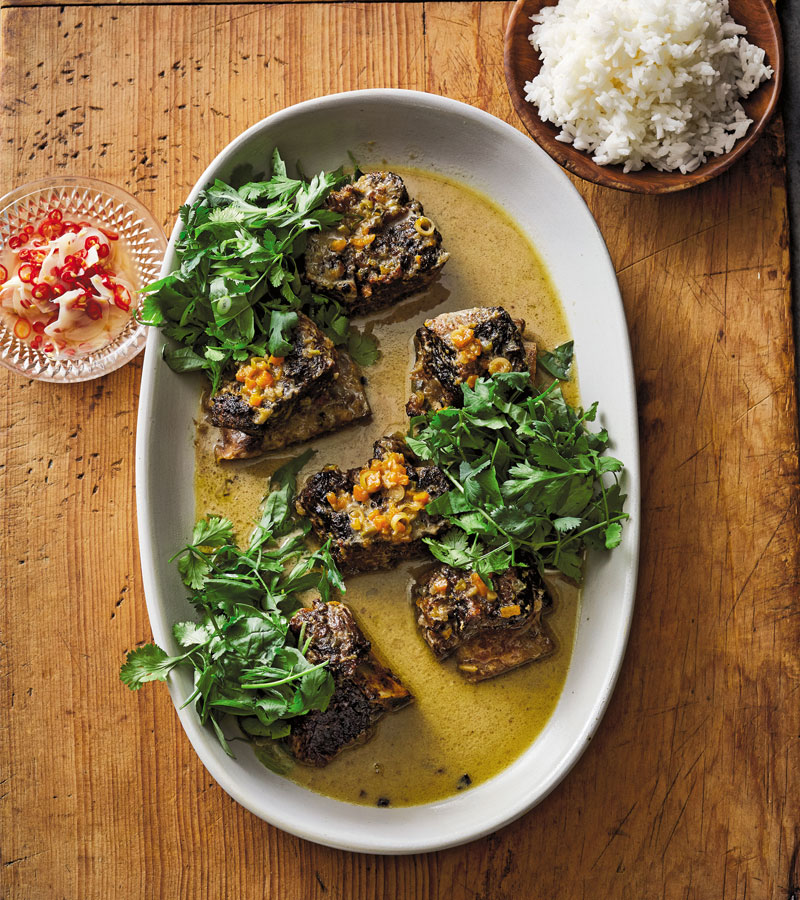 Ingredients:
For the beef short ribs:
2 kg beef short ribs, meat removed from the bone and cut into 4 cm cubes
1 teaspoon kosher salt, plus more as needed
1 teaspoon freshly cracked black pepper
2 tablespoons vegetable oil
1 cup (200 g) diced onion
2⁄3 cup (100 g) diced celery
2 tablespoons sliced garlic
1⁄4 cup (75 g) seeded and diced jalapeño chile
1⁄2 cup (100 g) diced leek, white and green parts only
2 stalks lemongrass, cut in half and smashed with the side of a knife
1 tablespoon grated ginger
1 tablespoon green curry paste
1 tablespoon ground Thai spice (equal parts toasted ground cardamom and toasted ground cumin)
4 cups (880 ml) Beef and Bone Marrow Stock (page 55), or store-bought
1 cup (240 ml) canned unsweetened coconut milk
2 tablespoons lime juice
For the pickled garlic:
4 garlic cloves, sliced paper-thin
2 bird's eye chiles, sliced
2 tablespoons white vinegar
For serving:
1⁄3 cup (30 g) sliced scallions
1½ cups (60 g) cilantro leaves, stems diced
Steamed jasmine rice, or Grilled Naan (page 30)
Directions:
Make the short beef ribs: Season the short ribs with the salt and pepper. Heat the vegetable oil in a medium Dutch oven over medium-high heat. Working in 2 batches, brown the short ribs on all sides, about 8 minutes per batch. Transfer the short ribs to a plate and pour out about 70 percent of the fat from the pot.
Add the onion, celery, garlic, jalapeño, leek, and lemongrass to the pot; cook, stirring occasionally, until the onion starts to brown, about 10 minutes. Add the ginger, curry paste, and toasted spice mix and stir to coat the vegetables. Add the short ribs and any juices from the resting plate. Add beef stock to barely cover the top of the short ribs. Bring to a boil, then turn down heat to low; simmer until the short ribs are tender, 2 to 2½ hours. Remove the lemongrass and whisk in the coconut milk. Taste the broth for seasoning. Add the lime juice and salt as needed.
While the beef is cooking, make the pickled garlic: In a small nonreactive bowl, combine the garlic and chiles. Heat the vinegar in a small skillet until bubbling. Pour the hot vinegar over the garlic and chiles and let sit for 1 hour.
To serve: Generously divide the curry into serving bowls. Garnish the bowls with little spoonfuls of pickled garlic and lots of chopped scallion and cilantro leaves. Enjoy with jasmine rice or a big piece of grilled naan.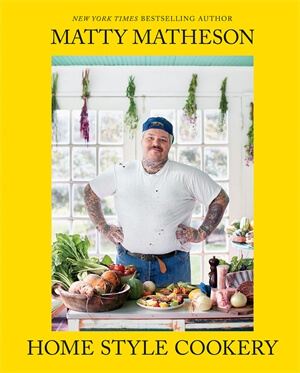 This is an edited extract from Matty Matheson: Home Style Cookery, out now. Text by Matty Matheson with photography by Quentin Bacon. Originally published by Abrams Books.
AU$49.99

Posted on
January 20, 2021