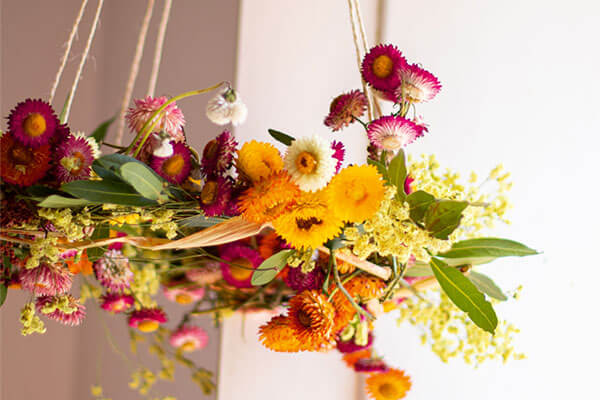 Braid fresh flowers into a hanging wreath for a party — then let it dry and leave it up all year!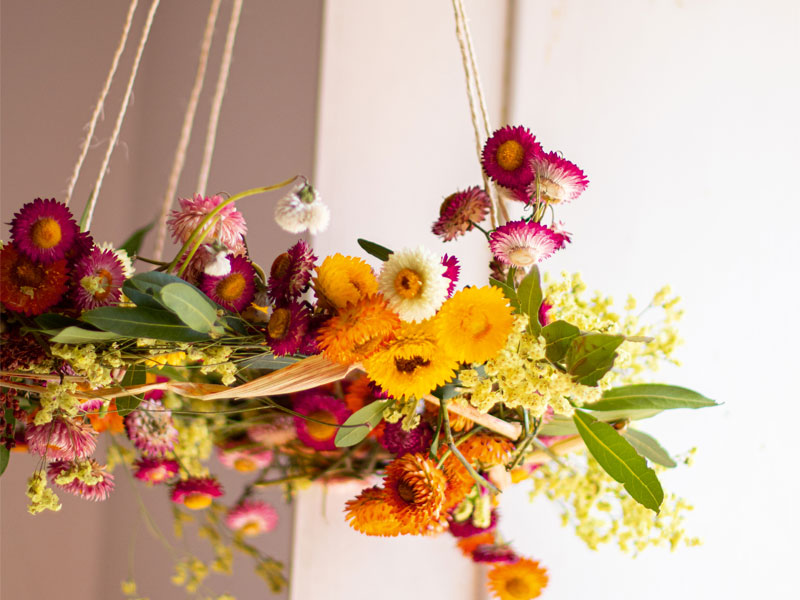 A hanging wreath adds a sense of playfulness to a room and is, of course, perfect for a little party or special occasion. This fresh-to-dry project can be made with just-picked flowers, but it's also a great way to use up ones that are on their way out — blooms that are wilting but still have pliable stems can be braided and will dry nicely.
Bay leaves, gomphrena, and strawflowers are especially good choices for an arrangement like this one, as they're all very long-lasting and dry well. The colours of strawflowers feel almost unreal (in the best way!) and bring a sense of whimsy to the project. This wreath is light enough that it can easily be suspended from a ceiling hook, in part because it's made without wire. Stems of millet and statice give it stability, and the braided strawflower stems keep the blossoms in place. These braiding and weaving methods can be applied to wreaths of all sorts. A hanging flower wreath is a focal point, so you won't need other large arrangements or elaborate styling. Here, I hung the wreath over a table covered in pink linen and added modern ceramics, tiny arrangements, and a few scattered flower petals.
You will need :
8 stems of small bay leaves
25 stems of strawflower
3 to 5 stems of common millet or pampas grass
5 stems of statice
5 stems of gomphrena
Florist's twine or string, for hanging
Instructions
Gather your ingredients at a wholesale flower or farmers' market. Once home, set them out in bunches on your work surface, and remove the leaves from the strawflower stems. If the flowers have been in water, be sure to remove any debris or excess leaves from the stems and let them dry out before working with them.
Create a base with the millet and statice, working with a few stems at a time.
Curve them into a wreath shape, spacing the blooms at intervals and twisting the stems around each other to secure.
Braid bunches of strawflower together, just as you would hair, alternating between three and five stems per bunch. Once braided, weave the bunches of strawflower into the wreath base, adding more statice for security if needed.
Fill in the wreath with bay leaves between each bunch, then weave in gomphrena between the stems.
Create a hanger by tying lengths of string or twine to opposite sides of the wreath. Display away from direct sunlight, if possible, or it will fade quickly.
This is an edited extract from Field Flower Vase, available now. Text and photography by Chelsea Fuss. Originally published by Abrams Books.
AU$45.00
Posted on
March 10, 2021